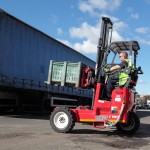 Moffett forklift hire in Denton can streamline your business operations. We aim to be a game-changer for local industries. There are several benefits to choosing to hire a Moffett forklift. The first is better productivity. A Moffett forklift is both versatile and precise. As such, whether it's handling heavy loads in a warehouse or navigating tight spaces in a construction site, Moffett forklifts rise to the occasion. This means a quicker turnaround times, more efficient productivity, and a noticeable boost in operational efficiency. Without a doubt, a Moffett forklift is an excellent machine. If you are searching for an excellent solution, give us a call. We're available to assist.
We also understand that each business is unique. As such, in Denton, Moffett forklift hire is ideal for your business' unique requirements. Furthermore, we can tailor our services to match your requirements. We have a range of different size Moffett to match your needs. As our prices are budget-friendly, hiring a Moffett makes good financial sense. Thus, hiring means that you don't have any capital outlay. Furthermore, it also means that you don't have any operational costs. This includes storage and maintenance costs of the Moffett forklift. Our Moffett forklifts are all in excellent condition. We regularly service and maintain them to ensure they remain in tip top shape.
Moffett forklift hire in Denton is affordable and convenient. Furthermore, our Moffett machines are available for as long as you need them. You can discuss your requirements with our friendly, knowledgeable team. For more details about our Moffett forklift hire, contact The Moffett Man right away. We will ensure that you receive the right Moffett forklift for your upcoming project. In addition, we believe in continuity of care. As such, the person who assists you with your initial enquiry will assist you throughout the hiring process. Regardless of the size of your project, Moffett forklift hire is the perfect choice for a successful outcome. Give us a call today and find out how our Moffett forklifts can benefit your business.