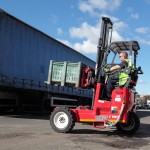 For Moffett hire in Skelmersdale, The Moffett Man has the perfect solution. A Moffett is an amazing piece of machinery. It can manoeuver in smaller spaces than a traditional forklift, and can get into previously inaccessible places. It can lift heavy loads and will make quick work of your material handling. A Moffett can be mounted on the back of a truck or trailer and will be at hand when you need to start loading or unloading your goods. Many businesses rely on their Moffetts to handle goods efficiently and without fuss.
If you are looking for a solution for your material handling goods in Skelmersdale, Moffett hire is available from The Moffett Man. You don't have to buy your own Moffett. If your business has a particular need, you can hire a Moffett from us. We have a range of models and will be sure to have the right model for the task you need. For a cost effective solution to your material handling needs, use our services. The Moffett is easy to transport. It is simply mounted onto the back of a trailer or a truck. This means that a Moffett can be brought to where you need it, when you need it. We will assist you with the rental of your Moffett and make sure that it is a smooth process. Getting the right model Moffett to the right place at the right time is easy.
When they need Moffett hire in Skelmersdale, businesses use The Moffett Man. They know that with The Moffett Man they will get excellent service and what they need when they need it. The price of the Moffett hire will be cost-effective and will benefit their business. Contact The Moffett Man for more information about Moffett hire. We can explain how they operate. You can describe your requirements and we will help find the perfect solution for you. With The Moffett Man, there is no "one size fits all" approach. You will get just what you need when you need it.