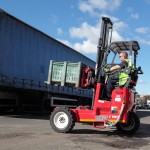 If you want change the definition of the word "waste" then you should be looking for Moffet Hire in Preston. The dictionary defines "waste" as scrap, useless, worthless, unusable and unprofitable. Those who waste squander, misspend and misuse. That is probably not the way you want to view your business waste material handling. The Moffett Man has solutions to make your business more manageable and far less wasteful. We especially want to help those with large amounts of paper and plastic waste each day such as fast food restaurants. Including all types of waste from food, plastic ware and paper ware, about 10% goes to waste. We may consider recycling. It will save you money and solve your waste disposal problems at the same time.
The Moffett Man is associated with the leading waste hauling and recycling company in the country, Elsa Recycling. Document and Data Shred is also part of the group. If your business generates a lot of documents and you are in Preston looking for Moffet Hire, The Moffett Man has a solution for you as well. We can manage your business waste from your place of business through to transportation. Food, paper and plastic waste from restaurants needs to be contained and moved out quickly. That is where The Moffett Man comes in. Our small forklifts can turn on a dime in tight places and we can equip them with the size and shape attachment to transport your loads from your kitchen to our trailer. The small forklift carries big loads and it's easy to transport from one site to another. It fits on the back of the transport truck or on the truck. It takes up no room and it releases for use easily.
When you are looking for Moffet hire in Preston keep in mind that The Moffett Man can manage any volume size waste. Contact us at The Moffett Man for a responsible and economical solution to your business waste removal. We will estimate your needs and put a waste management plan in place that suits. We are your one contact for all your waste material handling and transport. When you hire and use our forklifts you will find we are the professional and cost effective means for your business.