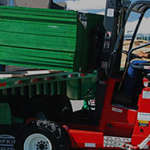 Moffett trailer hire in St Helens can help you with a cost-effective loading solution. The equipment can help you with faster and more cost-effective loading solutions. It is a great way to move waste and do it quickly and easily. Moffett trailers can help with hauling loads to and from construction sites or any other site where heavy loads need to be moved. Moffett trailers can be used for small jobs or large ones, depending in what you need.
In St Helens, Moffett trailer hire is provided by The Moffett Man. The vehicles they offer are a cost effective way to get heavy jobs completed. From the planning stage to the completion of the moving job, The Moffett Man will get your project completed. They have a wealth of experience dealing with the moving of waste from construction sites and other locations. The Moffett Man's truck mounted forklift is a three-wheeled machine that can be carried on the back of any truck or trailer. It is easy to remove from a trailer to begin the job of lifting and transporting goods.
Moffett trailer hire in St Helens from The Moffett Man will give the best solution for your hauling needs. They offer one of the most flexible portable delivery systems on the market. The flexibility that it provides is substantial. It can handle loads up to 8000 pounds. The truck uses a diesel engine and is very strong and reliable. The forklifts are trailer mounted and easy to detach and deploy. Call The Moffett Man and let them know what you need. They will help you successfully complete your project. Contact The Moffett Man today for more information about affordable and efficient Moffett trailer hire.