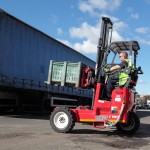 You can get reliable and convenient Moffett hire in Crewe so there is no need to lock up funds buying equipment. The Moffett Man provides cost effective rental plans for businesses that need to move goods to and fro quickly and safely. We have a wide range of models that can be used for various operations based on your needs, preferences and budget. As a provider of comprehensive waste handling, transportation and loading services, we can also hire truck-mounted forklifts, that can be carried on board any truck or trailer. This minimizes use of space and can be easily mounted and dismounted at your site. Whatever the terrain, building layout or size of the property, these vehicles can easily access them. We also stock a variety of waste-handling machines for the food and beverage industry, shopping centres, commercial and industrial facilities.
For business owners in Crewe, Moffett hire offers several real advantages over purchasing your own machines. Hiring is a smart way to ease your cash flow, especially when you don't use the equipment very frequently. Rental and hiring is not a liability on your account books, whereas equipment lease is and you can avail of full tax deductions as a business expense. You get the benefit of newer technologies and features and you can hire different types of equipment according to the present needs of each job. The flexibility you get when hiring allows you to plan operations and scale adjustments accordingly. If you have a different requirement temporarily, it makes more sense to hire. Rental plans usually include routine maintenance so you don't have the expense or the hassle of ensuring that the equipment remains in top condition. This provides safety and reliability in your operations.
Moffett hire in Crewe is an excellent solution when you consider that buying a large piece of equipment is quite a large investment, especially for a fledgling business. For more information about our Moffett hire, contact The Moffett Man. You can try out the equipment and check whether it's suitable to perform the tasks you need, otherwise you can simply return it.