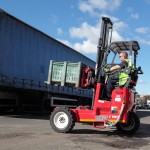 There are two things a Moffett hire in Leigh can do for you.
One is move your business waste away from your site to a transport vehicle. The second is to move the waste in the transport vehicle to a recycling centre for recycling or a landfill for biodegradable waste. However there are additional benefits to hiring one of our three wheeled workhorses. Food courts, 24-hour restaurants, festivals and more accumulate used plastic and paper goods as well as leftover food waste at a remarkable rate. You want to get that stuff away from your immediate site as quickly as possible. It looks bad to see overfilled trash bags dotting the customer area and just as bad to have them piled high anywhere on the premises spilling from a skip. It's not particularly healthy either to stash the trash bags out the back since they attract rodents and other pests.
We have your best solution to quickly move waste off the premises so you can maintain a clean sanitary environment. Our solution in Leigh, Moffett hire can also include a trailer parked on site. The Moffett fork truck quickly latches onto the outside of the trailer when not in use and easily releases to go to work. Use our agile and strong Moffett to move waste bags from business space directly to the trailer for easy loading. When the time is right, we'll pick up the full trailer and drop an empty. We are affiliated with one of the best-known waste management companies which is Elsa Recycling. If your volume of waste is not that great but still needs to be removed to a waste collection skip several times a day, you will love having our handy Moffitt to transport it. It manoeuvres into the tight places where other forklifts can't.  
Moffett hire in Leigh with or without a trailer is not just for food waste and paper products. We have multiple styles with a variety of attachments to help you move material on all terrain such as construction or industrial sites. Contact The Moffett Man to find out about our outstanding selection of Moffett fork trucks. We can manage your waste efficiently which can save you money and time. You will be amazed at how lightweight, flexible and versatile our selection of Moffetts for hire can be. Our prices are fair too.