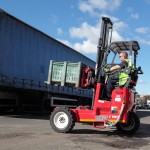 Moffett Rental in Runcorn means you can get all the advantages of a Moffett without a big capital outlay. The Moffett is an amazing machine. It is agile and can get into spaces that are inaccessible to a traditional forklift. It means you can work in small and awkward spaces and can get what you need done in record time. Whatever your transport and loading problem, the Moffett can help. The Moffett can also be mounted on the rear of a truck. This means that your valuable load space is not taken up by your forklift. When you get to your destination you can easily dismount and get unloading wherever you are. The Moffett has a well-earned reputation and it is not necessary to sell the concept. And with The Moffett Man you can get all its advantages with one easy phone call.
In Runcorn, Moffett rental is available from The Moffett Man. They can help you with your bespoke material handling service and your business waste disposal needs. With The Moffett Man you can prioritise and focus on your business and they can manage your material handling. Specialist skill makes a big difference to the ease with which things can be done. When you use The Moffett Man they can provide you with an end-to-end solution, tailored to your needs. This means that you can focus on your core business whilst The Moffett Man looks after your material handling.
Moffett rental in Runcorn is easy to arrange. Call The Moffett Man and speak to one of their friendly team members. They have the experience and expertise to advise you on your needs. The Moffett Man is passionate about what they do and are dedicated to finding the right solution for your business. The Moffett Man has a range of different machines, and will have the right one for your business. With The Moffett Man, you can maximise your efficiency and get your loading and unloading completed in record time. There is no need to battle with cumbersome machines. Contact The Moffett Man today and find out more about Moffett rental for your material loading.