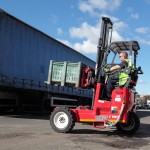 Take advantage of our affordable, premium quality Moffett rental in St Helens. At The Moffett Man, we fully understand the pressures and expenses of running small and medium businesses. It is neither  economical nor smart to purchase your own trailers and transportation. This only locks up capital that can be better used elsewhere. When you have issues with transporting waste, you need our one-stop service that deals with business waste in the most professional, efficient and affordable manner. We have many decades' experience in dealing with moving waste from site to transport. We offer a completely customised, bespoke materials handling service that's tailored to meet your unique requirements.
This vehicle is manufactured by the prestigious HIAB brand with plants in Ireland and the Netherlands. In St Helens, Moffett rental offers enormous gains.  The main advantages of the Moffett forklift are that it's better for productivity, more efficient and economical. The advanced design makes it faster, lighter and extra durable. Businesses can reduce their costs significantly by using the convenient truck-mounted forklift format. This is because the same truck can be used to transport both materials and forklift back and forth. The Moffet truck-mounted forklift vehicle is a handy and convenient three-wheel drive machine. It can be easily carried on the back of any truck or trailer. This helps to minimise space and dismounting problems. You're ready to work from the word go and can begin transporting the materials as soon as you get to the site.
Moffett rental in St Helens from our team comes with our top-level customer service as well. We provide you with all the information that you need about safety. These modern vehicles are equipped with advanced safety features designed to prevent accidents and mishaps. They also have a superior stability mechanism equipped with front and rear hydraulic stabilizers. Contact The Moffett Man for more information about our rentals. The Moffett line is also known for its endurance and longevity. These vehicles are much prized even when they're pre-owned. All they need is regular maintenance and servicing, and ensuring that they stay within their load bearing capacity limits.