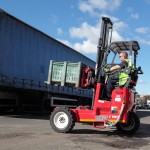 A Moffett trailer hire in Chester can be the best solution for your construction business. Firstly, it enables you to control your business expenses. A trailer hire is a cost-effective and faster loading solution because our truck-mounted forklifts can be put on any trailer or truck. This will enable you to increase efficiency. Secondly, you can better manage business waste. We are your single point of reference. From the first brief to the project completion, we will help you manage your business waste, from the construction site to the transportation. This will save you both money and time. Lastly, a trailer hire can help you with effective waste disposal. Our trailers can accommodate different volumes of waste via a sleek transportation process, helping you to maximise disposal in an effective manner. This will help reduce overhead costs.
If your business is in Chester, Moffett trailer hire can be arranged with The Moffett Man. We are knowledgeable and experienced in handling loading and transportation issues. This is why we have developed cost-effective solutions to give to our customers. When you choose a Moffett trailer hire, you will be surprised by its adaptability to differing terrains, loading capability and easy transport. No matter what your goods loading needs are, we can provide you with tailored solutions. We carry an extensive range of forklifts and trailers that can be used for a wide array of loading tasks. Our dedicated team can help you select the best option as per your business requirements. From the start to the end of your contract, a Moffett Man employee will be your support and point of contact.
If you have an ongoing construction project, you are likely trying to locate a Moffett trailer hire in Chester. Contact The Moffett Man call today and speak to a representative about Moffett trailer hire. You can save time and money by choosing our services.