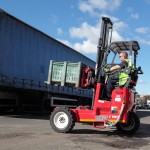 Solve your business waste management problems with our top-quality Moffett transport in Bramhall. The Moffet Man is your trustworthy partner in dealing with a comprehensive range of solutions to move waste from site to transport. Our bespoke materials handling service is one of a kind in the region. We are proud to be one of the leading trailer hire companies across the Stockport area and beyond. Our team provides excellent services for businesses that require movement of goods up and down, within a limited and tight timeline.
For business owners in Bramhall, Moffett transport is both affordable and convenient. Our forklift trucks are more agile and easier to maneuver. The facilities we offer are also affordable and available just when you need them. This gives you better control over costs in your business and you don't need to invest heavily in assets that you don't need on a constant basis. The Moffett range is versatile and can access almost any kind of space and terrain. The Moffett range is a well-established one, and the company enjoys a great reputation worldwide. Thus, the Moffett brand is more than 70 years old. Cecil Moffett in Clontibret in Ireland, began it in 1945, as a small agricultural machinery manufacturing business.  The Truck Mounted Forklift format was first invented nearly four decades ago. It was a small, 3-wheeler forklift truck that easily fit into the back of any truck or pickup vehicle. Additionally, it's  ideal for lifting, transporting, loading/unloading. Today, it is a part of the Cargotec HIAB business and is available in more than 45 countries.
Moffett transport in Bramhall is a great option for a wide range of industries such as building and construction, business waste, recycling, beverages, fire and rescue, and more. Furthermore, what makes Moffett ideal is that you can either operate it yourself if you have the license and experience, or one of our operatives can help you. For more details on how we can assist you and your business, contact The Moffett Man. Moreover, it completely eliminates the requirement for manual handling of materials. As such, this saves you time, money and resources that you can use elsewhere.