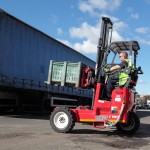 Moffett transport in Wigan can transform the material handling of your business. A Moffett is a versatile machine and has great maneuverability. It can get into places that traditional forklifts cannot. It can operate over difficult terrain. It can turn in small spaces. The Moffett also has an impressive load capacity and can make your material handling light work. It is easy to transport a Moffett to where you want it used. It simply fastens to the back of a trailer or truck. When you reach your destination, the Moffett is quickly dismounted and can begin ferrying goods immediately. A Moffett is ideal for use in a number of industries, including the management of material waste in the food and drink industry. Specialised machines are available suited to each situation.
If you need forklifts for your material handling in Wigan, Moffett transport is ideal. The Moffett Man has established an excellent reputation in the region. This professional team will oversee your hiring of a Moffett. They will provide you with a tailored solution for your business. Your material handling can be done efficiently and cost-effectively when you use their services. Purchasing your own equipment requires extensive capital upfront and there are ongoing maintenance and management costs. With The Moffett Man you can get the solution you need for your business without these costs.
If you need to move quantities of goods in a short period of time, Moffett transport in Wigan is the answer. When you watch these machines in action you can quickly see why they have become so popular for material handling. They are easy to get to the site where they are needed without taking up load space. Within minutes they can be dismounted and they are ready for action. The Moffett is agile and has an impressive ability to move in small spaces. Contact The Moffett Man today to discuss your needs for Moffett transport. The team will tailor a solution for your business. The experience of the customer is important to them and they will ensure that you get what you need for your business.