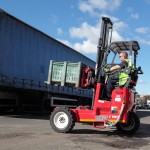 Moffett forklift hire in Didsbury is available as a great transport and loading solution. Moffett forklifts are ideal for loading and off-loading trucks from your warehouse. A Moffett is a compact yet agile three-wheeled drive machine. It is easy to manoeuvre around narrow corridors. Yet, it is robust enough to lift heavy loads. Moffetts can be mounted on the back of a truck or trailer. The Moffett mounting option saves storage space on your truck. Hiring a Moffett reduces the number of labourers you need when loading your truck. In effect, a Moffett hire saves you time and money when delivering or supplying goods from your warehouse.
We're well-known for supplying reliable Moffett hire services. In Didsbury, our Moffett forklift hire service is comprehensive and straightforward. We have an extensive range of Moffett models to suit the varying needs of our customers. Our versatility enables us to offer tailored loading solutions for several applications. All our clients have unique needs. As such, we offer flexible Moffett hire packages at affordable rates. Our team of professionals ensures every aspect of your Moffett hiring process goes smoothly. With several years of experience in the transport industry, we ensure our Moffetts are always in excellent condition.
If you are looking for the most customer-friendly Moffett forklift hire in Didsbury, you are in luck. Your satisfaction is our priority. We ensure that all communication with our clients is professional. Yet, we offer a personal touch with all our services. We understand the urgency involved when hiring a Moffett. As such, we ensure that our Moffett hiring process is quick and easy. If you would like to find out more about our hiring options, contact The Moffett Man right now. Our staff is available to assist with any questions you have about our services. A large amount of our business comes from customer recommendations.