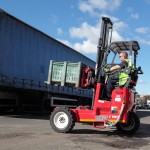 Try our Moffett haulage in Rochdale for efficient management of your warehouse cargo. Moffetts are compact three-wheeled vehicles used for transporting heavy loads in confined spaces. These vehicles are agile and easy to manoeuvre around tight corners and narrow corridors. Moffetts can go where forklifts cannot. Thus, Moffetts are ideal for waste management in office and factory setups. They can haul bulky loads from source to transport with ease. Moffett solutions reduce your waste management labour requirements significantly. A Moffett enables a single operator to collect, transport and offload your waste with minimal assistance. As such, hiring our Moffetts saves time and other resources. Hence, you don't need to disrupt your staff with waste management tasks while you have our Moffett on site.
Our Moffetts are easy to deploy because we mount them on the back of special freight trucks. In Rochdale, our Moffett haulage service cuts down delivery time significantly. Our truck-mounted Moffetts can bring bulk loads from sites that are challenging to access. With the aid of our Moffetts, you can fill larger trucks and move more waste from your premises at a time. Since we mount our Moffetts at the back of the truck, they don't consume any storage space. Our service gives you value for your money by maximising the storage space available.
If you need a solution for transporting delicate goods, consider our Moffett haulage in Rochdale. We deploy each Moffett with a professional driver who has experience in the designated task. Our Moffetts are stable vehicles that provide safe transportation. We have been providing Moffett hire services in the North West for several years. The quality of our services and the level of our experience is unmatched in the region. We are punctual, courteous, respectful and highly efficient at our job. Thus, if you would like to hire a Moffett, contact The Moffett Man today. We offer high-quality vehicles at competitive rates.  Moreover, a significant percentage of our business comes from repeat customers and referrals.