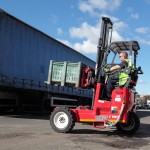 Are you looking for Moffett hire in Bury?There is only one company that you should call: The Moffett Man! Over the years we have built a reputation for meeting and exceeding all the expectations of those who turn to us. No matter what your needs may be you can trust us to deliver the sort of service that you would cherish. Fast, cost-effective, and efficient; our Moffett truck mounted forklifts offer impressive load capability, adaptability to all terrains, as well as ease of movement whenever you use them to transport goods for your business.
It is important to ask yourself the important questions when seeking for a reliable way to transport your goods. In Bury, Moffett hire should take into consideration the particular needs of your business. What works for someone else may not necessarily be the best for you. That is why we at The Moffett man pride ourselves on our ability to provide tailored solutions aimed at meeting the particular needs of your business. We understand the need for maximising productivity while respecting time frames, as you transport your goods. We translate this understanding to results-driven solutions whenever our Moffett Man trucks are called to action. Our Moffett Man trucks are vastly superior to a normal forklift and can be carried on the back of any truck or trailer, making it easy for you to carry out your transportation wherever and whenever you need to.
So looking for Moffett hire in Bury can, and should, be an absolutely stress free exercise for you. We at the Moffett Man make sure of that. Our cost effective services are ideal for businesses in need of rapid and efficient transfer of goods from one place to another. We possess a wide range of Moffett truck models that can easily be transferred from one place to another to fulfil a host of needs. Contact The Moffett Man today to learn more about their services. We have a dedicated team in place to oversee the rental of our trucks so that from first contact till point of completion, the process remains as smooth and seamless as possible.