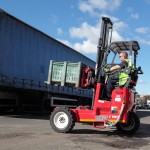 Moffett haulage in St Helens is available from The Moffett Man as an excellent way of solving your waste transportation concerns. If you are looking for a solution that can deal with your business waste promptly, effectively and professionally, The Moffett Man is waiting for your call. We offer a highly regarded bespoke material handling service that will deliver a comprehensive transport and loading solution for your business.
For your business in Stockport, Moffett haulage is available from The Moffett Man. Their Moffett truck mounted forklift is a three-wheeled drive machine. It can be transported on the back end of any truck or trailer. Once you have reached the required destination, it can easily be removed to begin transporting goods to and from. Unlike traditional forklifts, this agile, nifty machine can be used to get to inaccessible areas, making the removal of the goods faster, and easier. It can go anywhere, over different types of terrain, building layout or yard size. It also has the ability to move around with an impressive load size capacity.
Moffett Haulage in Stockport is affordable at The Moffett Man. We also know that time is money and with Moffett haulage, you can get the commercial waste moved in the quickest time possible, and so saving you money. We also have a model range that includes specialist machines. These can handle material waste for the food and drink industry, shopping centres and any commercial or industrial usage. Contact The Moffett Man today for more information about Moffett haulage. You can rely on the Moffett Man for highly quality services and professionalism, after all, as they say 'if anyone can The Moffett Man can'.