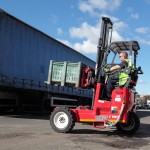 Moffett haulage in Cheshire specialises in the removal of commercial and industrial waste from site. When you consider how much waste a shopping centre generates daily, it is overwhelming. The process of moving it from the immediate premises to the transport needs to space to operate the forklift. Some areas are tight and there is not much room to stack, store and manoeuvre. You cannot just leave the waste materials to create an unsightly trash heap, attracting pests, until you have a truckload. There are laws you know.  Many areas behind business are crowded because the buildings are old. When those buildings and alleys were constructed, waste was not a big issue. You need the right equipment to do the job safely and efficiently.
In Cheshire, Moffett haulage is available from The Moffett Man who knows that time is money for your business. Therefore, the quicker that commercial waste is moved from your location to the transport, the more money you save. We have the time-saving equipment to save you money and we can even supply an operator if you choose. Our Moffett forklifts can handle jobs large and small. The Moffett is an all-terrain forklift that can manoeuver most anywhere including compact areas and the uneven terrain of construction sites. This forklift is lighter, yet more agile than most other forklifts. It is easy to load on a truck, then unload and move wherever you need it. This forklift is cost effective because it is a faster and more efficient way move waste.
Moffett haulage in Cheshire by The Moffett Man can handle all size waste loads without the long wait. We have a great deal of experience moving and loading waste. A customised material handling service can be set up to meet your specific needs. The equipment is available for shopping centres, warehouses, back alley access and open yards. Our truck- mounted forklift takes very little space and is easily loaded and unloaded because it is lightweight. The Moffett is a three-wheeled drive forklift that is easy to operate. We offer fixed prices for varying contract periods. For more information on Moffett haulage, contact The Moffett Man.