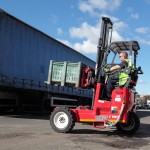 When you want Moffett trailer hire in Widnes, who better to call then The Moffett Man. With The Moffett Man, all your waste transportation issues will be handled effectively and professionally in no time at all. The company has extensive experience in moving waste from site to transport, and each material handling service is bespoke to fit the exact needs of your business. With the Moffett trailer, you get a truck mounted forklift, which is easily transported and clears the trailer load space, allowing for a much larger carrying capacity, and faster load and unload times. Put simply, it is very efficient.
In Widness, Moffett trailer hire comes with a very agile, light and maneuverable forklift, which can tackle terrain and areas that are usually inaccessible to heavier machinery. The three wheeled forklift can turn on a dime, so there is no building layout too tight to handle. Whether you are in the food and drink industry and you have material waste that needs to be taken care of, or you have goods and products that need to be handled within the industrial or commercial sectors, The Moffett Man is here to help you.
So why take advantage of Moffett trailer hire in Widness? First of all, you will take complete control of the loading and unloading processes for your business. You will be handling these processes more efficiently and effectively than ever before, whether you are getting rid of waste, or receiving new products. Secondly, you will save time and money by not having to hire a trailer and a forklift separately. Thirdly, you will reduce your overhead, especially if you have a need for a wider load capacity in your trailer, since the forklift will not have to occupy any space while being transported. As you can see, there are plenty of benefits to hiring a Moffett Trailer. If you want to find out more information regarding prices, and other aspects of the Moffett trailer hire, contact The Moffett Man today.