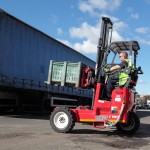 Need Moffett hire in Ashton? Clients who are looking for solutions for their mobility issues might want to consider the services that we offer at The Moffett Man. Warehouse owners, factory operators and supermarket managers will definitely find our mobility equipment most helpful in all loading and unloading tasks. It may be easy to have people do the job, but loading and loading large and heavy items will need more staff and take a longer time to complete. Moreover, staff may be unreliable and it makes sense to use a Moffett to ensure the job is completed quickly and efficiently.
As such, if you are thinking about investing in solutions with a high return in Ashton, Moffett hire is worth considering. It's one of the most cost-effective business solutions, not to mention that they are pretty fast too. Within a matter of hours, you can finish loading and unloading items that would take hours, if not days, to complete. And they are quite agile, thus, giving you more freedom and control to run your business the way you should. Our mobility vehicles can also handle various sizes and weights, and you won't have to worry about extra overheads. With The Moffett Man, you can think about maximising profits, optimising tasks, reducing overheads and efficiency. We have a wealth of experience helping clients deal with a number of problems. Moreover, our trailers are all-terrain and can go literally anywhere; it can be manoeuvred around with impressive load capacities. Our models can handle stocks for the food and drink industry, shopping centres, and for waste materials.
To optimise your work, don't hesitate to invest in Moffett hire in Ashton. You won't go wrong as there are many benefits, including one of the most important – time efficiency.  For any further details about Moffett hire, you are welcome to contact The Moffett Man. Another great perk is that the forklifts can also be mounted at the back of any trucks, transported to the clients' place for any work required, and then transported back.