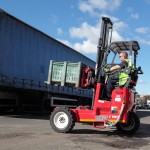 We hire Moffett trailers in Leigh for use with our Moffett forklift trucks. If you are in the food or drink industry then you will often have products that need to be disposed of. Some enterprises generate more waste than others but the Moffett machines can handle it all. The load bearing capacity of our machines is truly awesome. The may be small but they can carry very large loads. When you are finished loading the waste onto the trailer the forklift is simply loaded onto the trailer ready for the next stop.
When your business creates a large amount of recyclable waste in Leigh, Moffett trailer hire can be invaluable and very cost effective. Do not waste time and energy trying to manually load your waste. We can rent the trailer and truck out once a week or once a month if you do not have enough waste for a daily collection. If you are collecting waste on behalf of your customers then the Moffett Man is made for your business. It can be used to collect waste at shopping centres or malls and any commercial or industrial concern. It is the supreme solution to all your waste disposal needs. The forklift is easily and quickly dismounted from the trailer and just as easily replaced when you have completed the work.
If you need to move waste materials then hire a Moffett Trailer in Leigh. Contact The Moffett Man today to organise the hire of a trailer and forklift. Our aim is to enable all the various industries that recycle or responsibly dispose of waste to move the material quickly and easily out of their premises. Our truck or trailer mounted forklift will enable you to get into small confined places and reduce the cost of extra labour to move the items. The forklift is a three wheeled machine that is agile and stable even on very rough terrain. All our machines are well maintained and affordable.