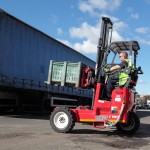 Consider Moffett hire in Stockport to more easily manage material handling of all kinds. Our three wheeled machine can go where larger forklifts cannot but they can move heavy loads in tight spaces. Specialist attachments allows for loading trash and other materials from site to transport truck. The machine is all terrain and particularly useful for cleaning construction sites of debris and shopping malls of trash. At the end of the day, instead of seeing mountains of trash bags from restaurants and shops in a shopping area, the Moffett loads the truck throughout the day, not allowing unsightly and unsanitary accumulation of trash. When fully loaded, the Moffett locks onto the rear of the disposal truck. At the waste disposal site, it easily unhooks from the truck to manage the unloading.
Large distribution centres may be packed and stacked with narrow aisles for stocking and order picking. In Stockport, Moffett hire means that you can use a Moffett in these tight areas. Nothing except a human is as manoeuvrable as a Moffett. The ease of use for loading and unloading cannot be overestimated. The Moffett Man offers a range of machines equipped for almost any industry. We have clear straight forward agreements and on-the-spot customer service to meet your waste management needs. Hire one of our trailers along with the Moffett forklift for complete service. Our terms are customised to your long or short term needs.
At The Moffett Man, Moffett hire in Stockport is your solution to more profitability. When drivers don't have to wait for help to unload their turnaround time is quicker and time is money. Contact The Moffett Man and together we can bring greater efficiency to your material moving process. We offer a range of Moffett equipment designed to fit your application. The manoeuvrability is welcome in tight commercial spaces but also for almost any industry including agriculture, construction, recycling, and distribution and even for defence. The all-terrain features and multiple attachments means your Moffett can go anywhere safely and efficiently.  Moffett is known as a market leader for handling flammable containers. Hire a Moffett today from The Moffett Man for the personal service and fair prices.