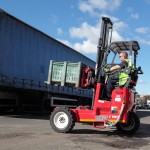 Our Moffett forklift hire service is well known but if you need a Moffett Trailer in Warrington The Moffett Man is your go to guy.Our go-anywhere forklift mounts onto the rear of the trailer so easily that mounting and dismounting is a breeze. Our three wheeled Moffett forklift can go almost anywhere you can walk. The available attachments suited to load type make this little machine a workhorse that can handle surprisingly big loads. Our trailers for hire are setup to work with the Moffett forklift so hire them both and get the job done quickly. Call us for trailer size and capacity. We have the size you need. Dismount the Moffett and load up the trailer then remount the forklift for transport and dismount the Moffett for unloading.
We have the fast and easy solution for moving large amounts of waste materials. In Warrington, Moffett trailer and forklift hire is an economical solution for moving material from anywhere. Park the trailer at your construction site and the Moffett forklifts all-terrain capabilities will help move materials back and forth all day, keeping the worksite safe from debris. Large shopping and dining malls can park one or more of our trailers at the dock doors and using the versatile Moffett move trash and recyclables from store to dock to a trailer. Once the trailer is filled, your Moffett hops on the back for the ride to the landfill or recycling centre.
Hiring a Moffett and Moffett trailer in Warrington is sometimes a better solution than purchasing them outright. Contact The Moffett Man and together we can evaluate your size and frequency of your material moving needs and compare the costs of hiring or purchase over the short and long term. Whichever choice you make, you can be confident that your best deal is with us. We look after our customers with attentive customer service and quick response time. We know the job you face dealing with waste removal and transport. Moffett Man staff has years of experience and understands what you expect. Our promise is to meet your expectations.