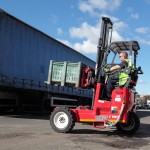 Using a Moffett in Eccles can help you take your business to new levels. Moving waste can be a logistical issue that needs proper handling. This is where The Moffett Man comes into play. We can give you the opportunity to move waste efficiently and effectively without having to deal with multiple companies or middlemen. We carefully vet each business' needs, so that we can offer a truly bespoke service. The Moffett Man provides a business solution that is also cost-effective, and this means that we can help your business prosper even more. The make of the forklifts from The Moffett Man allow them to be easily manoeuvre even the most inaccessible of roads without succumbing to the weight of the load.
With the amount of waste a business can garner over a period of time, it is important to dispose of it efficiently. In Eccles, Moffett from The Moffett Man uses a flexible delivery system to manage your business waste from site to transportation. From the very first consultation until the job is completed, you'll receive quality customer service that will save your business both time and money. By using a Moffett, you'll be in a position to reduce overhead costs, thereby helping your business to prioritise. There's no need to worry about the load that needs to be taken care of, as a Moffett is able to handle a variety of volumes of waste. The three-wheeled drive machine can be mounted on the back of any truck, making it easy to unload as well for immediate use. Our model range enables us to cater to any business type, including the food and drink industry.
If you're on the lookout for Moffett in Eccles, The Moffett Man has got you covered. Contact us today for the perfect solution to your waste disposal needs. We'll meet and exceed your expectations with our service. Get in touch for Moffett trailer hire, Moffett hire or Moffett rental for your waste disposal needs.