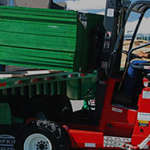 Moffett trailer hire in Warburton from The Moffett Man will make short work of the job at hand. Pop your Moffett forklift onto the back and head to your collection site. We have Moffett hire as well. These efficient fork trucks can get into the spaces where others can't go. They're in and loaded, turn on a tight radius and they're out again to load the trailer. We've got the attachments to suit your needs. Especially versatile is the Universal load handler because your Moffett can switch from using fold-down forks to a brick grab in 60 seconds. You don't even have to remove the load handler to transport the Moffett on the back of the truck. If you are removing and loading trash bags, we have fittings to make the job fast and easy.
The trailer you use with the Moffett needs to be the right size for the anticipated load. In Warburton, Moffett trailer hire comes with our help in determining the size of the load, the right trailer for the job and most importantly, the right distribution plan for loading. You don't want to be going down the road with an unbalanced trailer. At least you'd have a Moffett handy for clean up if you dumped the load. But that's not what you're looking to do. You want an efficient and cost-effective method of loading, hauling and unloading that will save you time and money. When you rent your trailer and Moffett from us, you're going to get the best possible price.
You need a Moffett trailer hire in Warburton that is well maintained and dependable so there are no time and money consuming problems. The equipment for hire from The Moffett Man is in top shape to serve you well. We're going to make sure everything is up to your standards before you leave the site. Contact The Moffett Man for the best customer service on Moffett and trailer hire. We can help you with the removal of waste materials from restaurants, festivals, indoor food courts and more. We can drop the trailer for you with the Moffett for loading. We're easy to do business with but thoroughly professional. We will oversee your rental from start to finish to make sure you get the best deal.