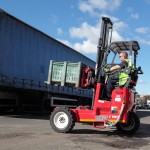 For affordable Moffett haulage in Rochdale, you want The Moffett Man. This is the way to move large quantities quickly and efficiently. Tight spaces and close quarters are no problem for the agile 3 wheeled Moffett. It has a four way system which allows it to move sideways. Imagine, this powerful little machine moving a wide load sideways down a narrow passage. It's great for construction sites. Move tonnes of waste from shopping malls, restaurants, hospitals, schools, factories and more no matter how cramped the passageway. It works for deliveries too and they can be made and unloaded in record time, all day and night in almost any environment; that includes uneven terrain and crowded delivery docks and warehouses.
It takes only one person to operate a Moffett. In Rochdale, Moffett haulage can include almost anything because of the many attachments adapted to special use. You have to see it to believe it but a Moffett can lift up to 3 tonnes. When you're fully loaded or unloaded, the three wheeled Moffett attaches to the exterior back of the truck for transport to the next location. When you reach your destination, the Moffett is easily disconnected and ready to work in about one minute. These forklifts are so easy to work with. They let you get the job done in record time. If you're getting paid by the load, these machines will help you make more money and with less effort.
For Moffett haulage in Rochdale, depend on The Moffett Man for sales and for hire. We can equip you with a Moffett forklift that will fit on the back of any truck or trailer. If you need a transport truck as well, you can hire one from us. One person can move a tremendous amount of material in a short time. That kind of efficiency will likely save you money and make you more money. Contact The Moffett Man and schedule some time to come in and talk with us about your haulage needs. We'll show you how the Moffett can meet that need at rates that are competitive, whether to hire or to purchase. Tell us what you need to haul and we'll demonstrate how well the Moffett performs the task.