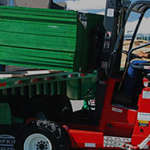 Become more efficient with Moffett transport in Bolton. If you work in construction or any career that involves the frequent loading and moving of goods, you could benefit from a Moffett. The Moffett Man offers this small, lightweight forklift-like vehicle for hire. Because of its compact size, it can easily be transported to and from the site on the back of a truck. You can save the time and energy of loading and offloading your materials at every stop by simply putting the Moffett, load and all, onto the truck in one go.
Among all of its convenient features, the highlight has to be the Moffetts maneuverability in small or rough terrains. This means that in Bolton, Moffett transport extends to shopping centres, parks, warehouses and factories as well as construction sites. Specialised models are available for waste removal in any of these environments, making it an all-purpose, essential addition to your workforce. Do not be fooled by its size; the Moffett can handle heavy loads without any reduction to maneuverability. Even fully loaded, it can move sideways, along beams and through tiny spaces. This is especially useful on a construction site where a worker may be at risk of falling or cannot navigate the difficult spaces while carrying a load.
The Moffett Man provides Moffett transport in Bolton and throughout Manchester. As well as the Moffett itself, the services of The Moffett Man professional operators are also on offer. Contact The Moffett Man to find out more about the affordability of Moffett transport. With the addition of a Moffett, your business will save time and money while enjoying the increase in productivity. This efficient little machine will prove to be your hardest worker, and your employees' best friend.