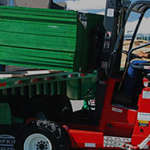 For those in the food service industry, a Moffett in Bolton is essential to the day-to-day business of sanitation. Fast food businesses may need to clear out waste products every hour while a standalone restaurant may do fine with an end of the day waste removal. Keeping the waste products contained and away from food prep areas is the goal. Hospitals, shopping malls, businesses with cafeterias, schools, grocery stores and more accumulate large quantities of waste that must be removed from the premises. Imagine the volume of waste after a two-day craft or music festival. Friends, we are drowning in it. The Moffett Man has the solution for every waste removal task large and small.  You need a Moffett on your clean-up crew.
A Moffett forklift is designed to operate almost anywhere. For businesses in Bolton, Moffett offers an agile and lightweight little giant that can literally move mountains of waste products. Our three-wheeled design fits and maneuvers in tight areas other forklifts can't. We have a selection of models suitable to your particular waste removal from fast food to industrial waste. Clean up is quick especially if you have one of our trailers on site to receive the waste. Our Moffett forklift anchors to the rear of a truck or trailer with easy on and off capabilities so it's always nearby without taking up space. A Moffett will streamline the waste disposal for your business.
Of course the same easy efficiency works for unloading materials with a Moffett in Bolton. You should see it operate on construction site terrain where other forklifts could never go. When you deliver materials to your work site, our Moffett will get the goods from the truck to site, saving workers time and energy which translates into money saved. Contact The Moffett Man and let us find your best solution for material handling with a Moffett suited especially to your needs. We think you will find the Moffett a cost effective solution to your material handling needs. Call on Moffett Man as your one resource for transporting waste products. Our flexible service is customised to save your business time and money.